Purple Mattress Reviews: Purple offers three types of mattresses and in three models purple original mattress is the first one.
The purple mattress is a bed-in-box mattress and shipped directly to the customer compressed and packaged.
Their mattresses are one of the popular mattress brands and best-selling mattresses in the united states.
You can find a purple mattress in their showroom and physical stores but purple mattresses are mostly sold online.
We will also discuss where to buy a purple mattress and which buying options you have.
But will purple offer high-quality sleep and support? Read on for our unbiased and expert purple mattress review.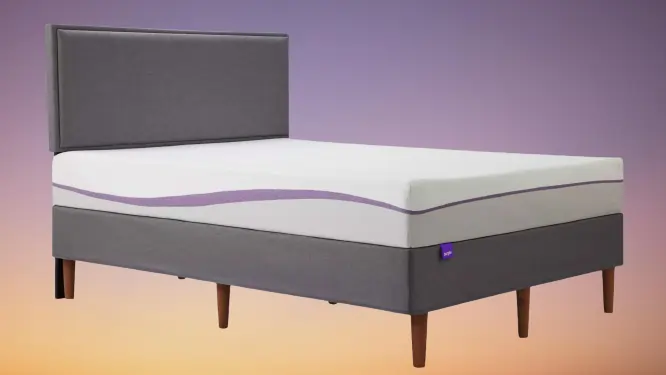 Purple Original Mattress Discount
Highest rated & Most Popular Award Winning Mattress in 2022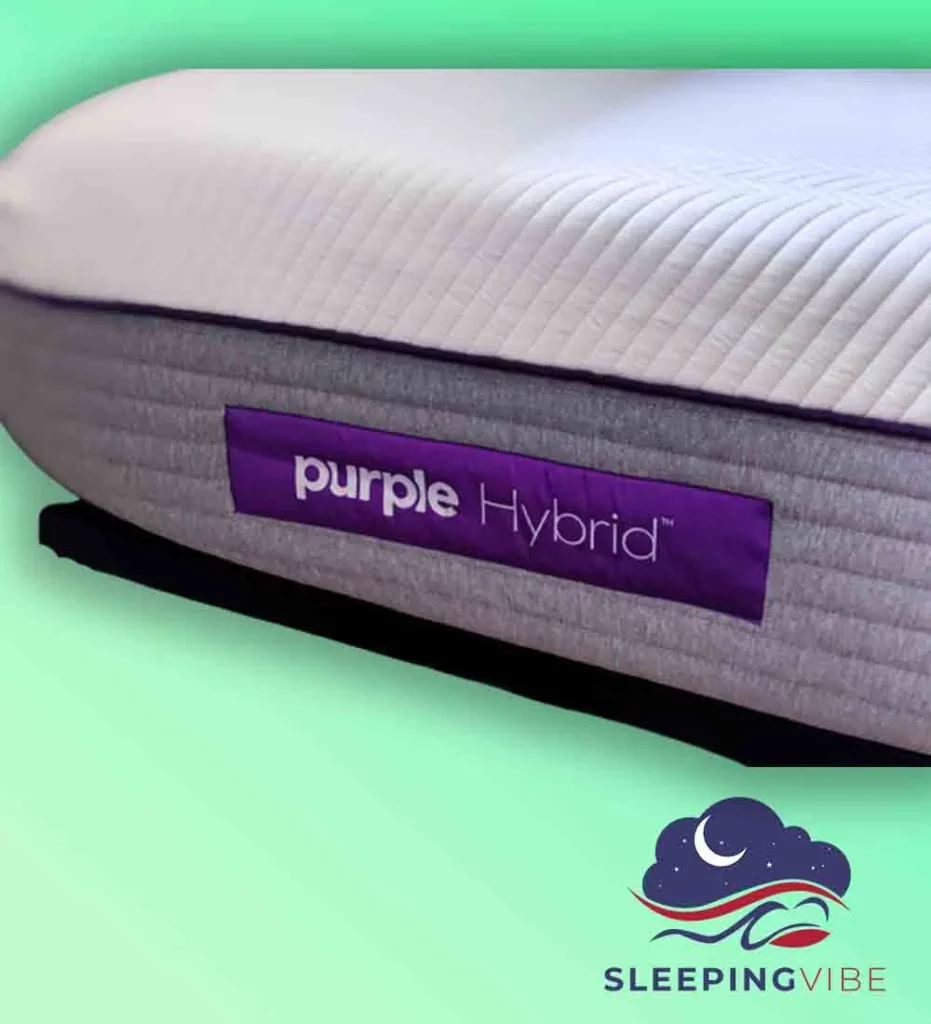 Key features
One of the awesome things that makes the purple mattress so unique is its top layer which is a hyper-elastic polymer built into a grid pattern.
The hyper-elastic grid is designed to compress and spring back when the pressure is applied which makes the mattress high quality and unique.
Purple Grid is very durable and makes the mattress more strong and more long-lasting (around 8 to 10 years).
As I said before purple offers 3 models which are purple original, purple hybrid, and purple hybrid premier the biggest difference between the three of these is that the purple original mattress has a polyfoam support core while the other two hybrid models have pocketed coil support core.
Who Is the Purple Mattress Best For?
Sleeper who weighs more than 115 lbs and under 230 lbs
Hot sleepers
Back sleepers who need more spinal support
Sleepers who want an affordable mattress
Couples who want motion isolation
Sleepers who want a bouncy and responsive mattress
Who don't love it?
Sleepers who want a traditional feel mattress
Sleepers who want a sink-in feel
Sleepers who want a lightweight mattress
If you can't invest more than $1000 in your bed
Purple Mattress Review (Honest & Unbiased) how purple mattress is made of and its performance.)
If you prefer a video review then you can watch this video and see
Purple Mattress Video Review
Purple Mattress Options
As I said before purple has three models the original purple mattress, purple hybrid mattress, and purple hybrid premier.
The Original Purple Mattress Review
Oringnal Purple Mattress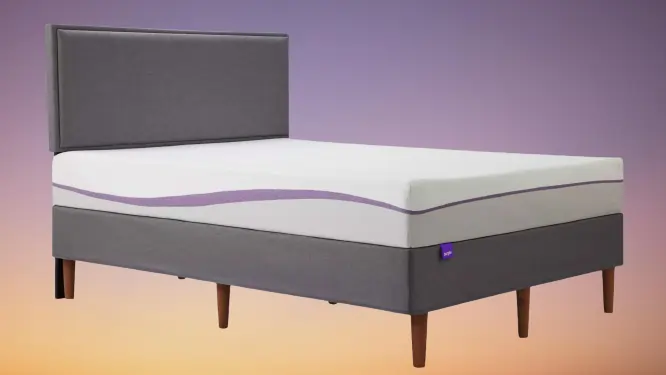 Most Popular & Highest Rated
All Foam Mattress
Affordable Price
Medium Firm (6 out of 10)
10 inch thick
Best of back and side sleepers
This one is the first mattress offered by purple and it literally broke the internet and positioned itself as one of the best top-rated mattresses in the mattress industry.
The Purple Hybrid Mattress Review
Purple Hybrid Mattress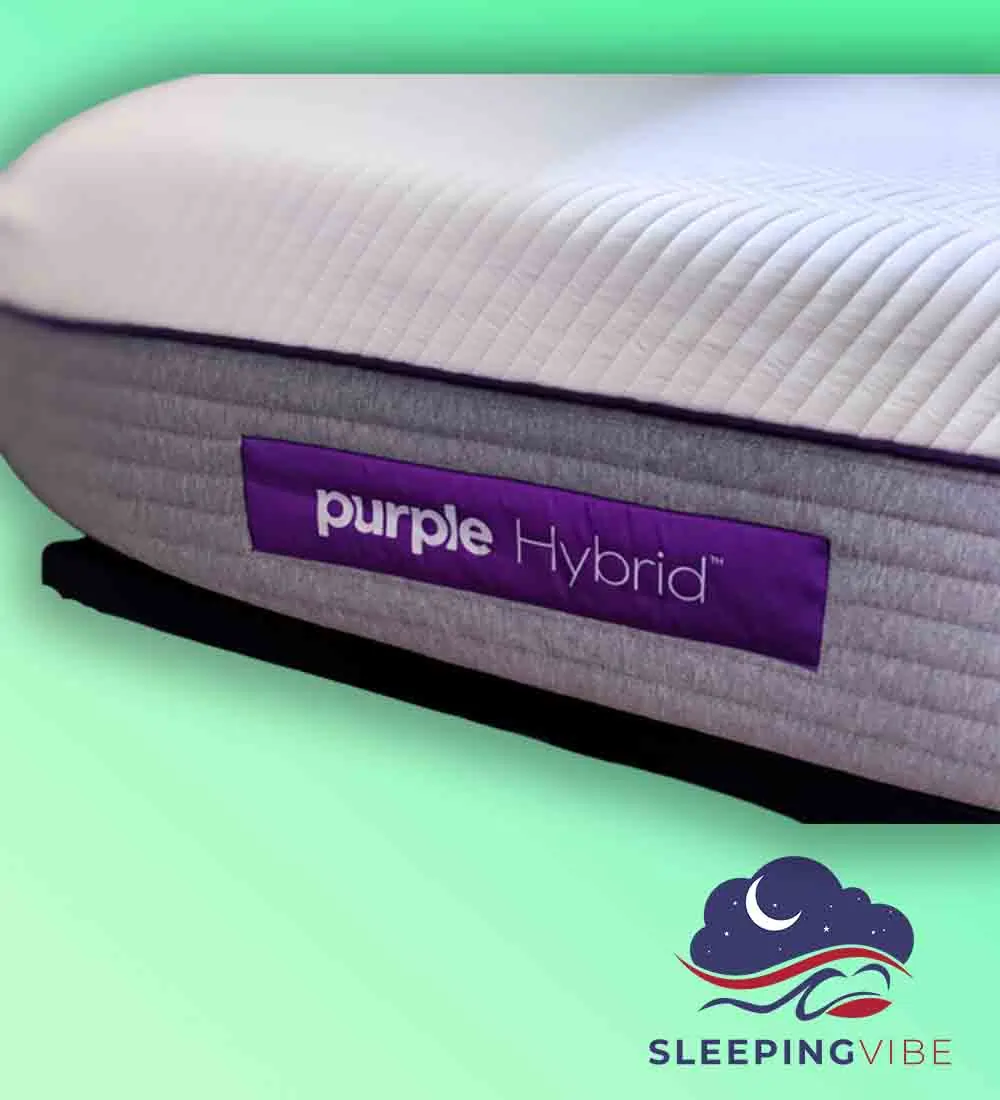 Highly Supportive
Hybrid Mattress with Multiple Layers
Medium Firm (6.5 to 7 out of 10)
11 inches thick
Great Supportive and Extra Ordinary comfort
The purple hybrid mattress is made of multiple layers but the only difference between purple original mattress and purple hybrid mattress is its pocketed coil support.
The purple hybrid mattress contains pocketed coil support, giving a bouncy feel.
The Purple Hybrid Premier Mattress Review
Purple Hybrid Premier Mattress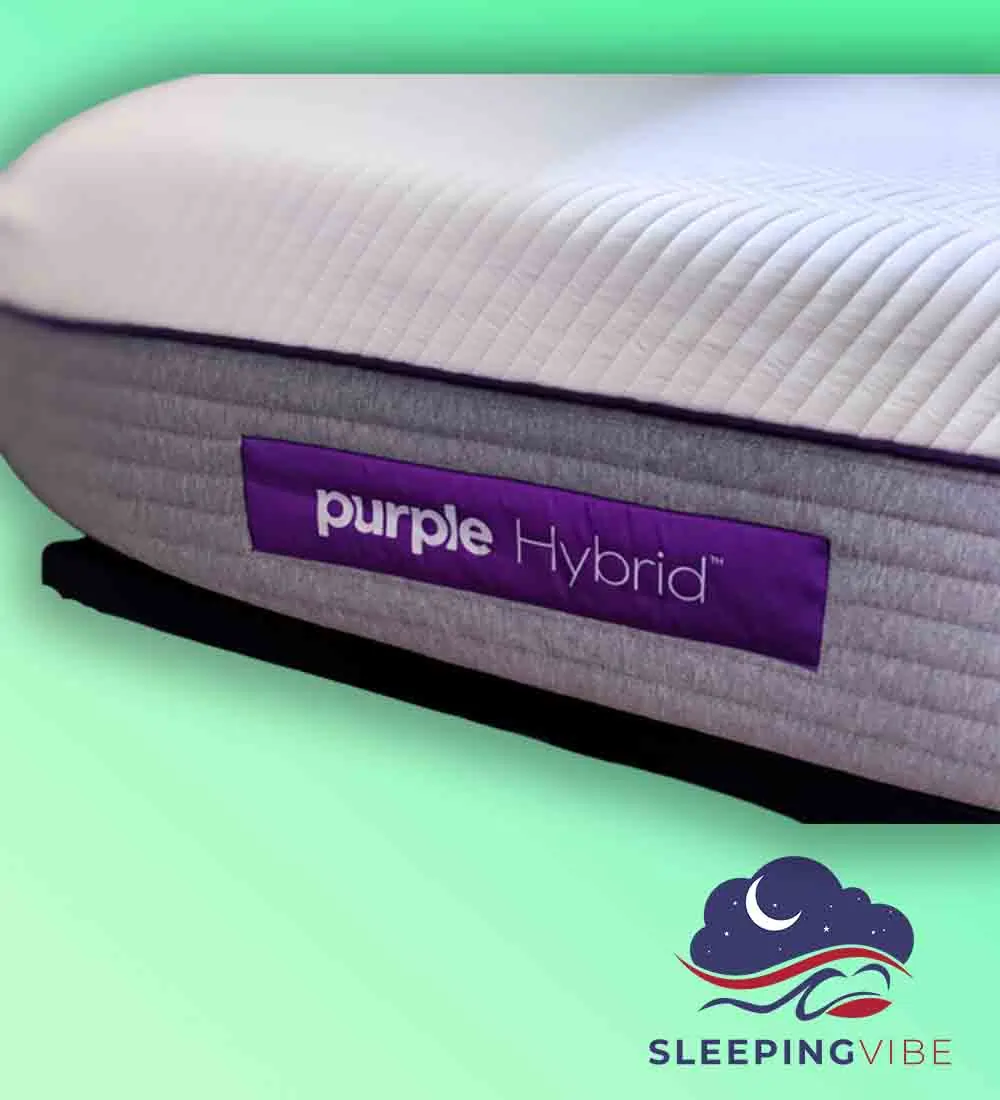 Most Advanced
Best mattress for heavier person
Top Premium Quality Model
Hybrid with Multiple Layers
Longlasting & Comfortable
Medium Firm (5 to 6 out of 10)
12 to 13 inches thick depending upon your needs.
This one is the last and most advanced model offered by purple.
And the only difference between purple hybrid and purple hybrid premier is its thickness.
In a purple hybrid mattress, you only get 2 inches of purple grid layer but in hybrid premier, you can choose thicker like 3 or 4 inches of grid layer.
Purple Mattress Firmness and Feel
When you are shopping for a new mattress, the most important thing to look for in a mattress is its firmness and feel.
And these two factors will tell you whether the mattress is comfortable or not.
What does the Purple feel like?
The original purple mattress feels squishy and firm at the same time.
And this is because of its hyper-elastic gel polymer grid, which collapses when enough pressure is applied.
But It takes a few days for the purple mattress to adjust to your body but then you can feel more comfortable sleeping on the purple mattress.
What does it feel like for an average-weight sleeper? (115lbs to 130lbs)
Most average-weight sleepers should find this mattress(purple original) great for the back because of its support.
Average-weight stomach and side sleepers can enjoy the purple mattress support and comfort.
What does it feel like for a lightweight sleeper? (below 130lbs)
Lightweight side and back sleeper find the purple original mattress feels too firm. Because they are very lightweight so purple can't provide them enough support.
But on the other hand, lightweight stomach sleepers find this mattress very supportive and firm enough to make them comfortable.
But again there are lots of lightweight sleepers who prefer a firm mattress rather than a soft one.
What does it feel like for a Heavy Weight Sleeper (Over 230lbs)
Heavyweight sleepers also can enjoy the purple mattress's support and comfort.
However, if you are more than 300 lbs then this mattress is not for you.
But below 300lbs heavyweight side sleeper and back sleeper can enjoy its plenty of pressure relief because they will feel its gel grid and cradling relief experience.
What does it feel like for a couple?
If you are a couple who wants motion isolation because your partner moves a lot in bed then you can also enjoy its comfort and support.
Couples usually love this mattress because of its comfortability, supportiveness, cooling effect, pressure relief, and motion isolation.
How firm is the purple mattress?
A purple mattress is a medium firm mattress on a firmness scale of 6 out of 10.
The purple mattress is a balance of pressure relief, comfort, and support.
Purple Mattress Construction
Purple mattress is about 10 inches thick and has 3 main layers.
The purple original mattress is also technically a hybrid mattress because it also contains two different types of materials.
And the difference between the purple original and the other two hybrid options is that the purple original has no coils in its base layer other than that construction of all purple mattress is same.
So Now let's look inside of the purple mattress.
Cover:
The cover of the purple mattress is called the purple SoftFlex Cover which is very thin, breathable, and increases the performance of the overall purple mattress.
It's stretchy and soft to the touch. This is a removable cover but you can not wash this cover.
So if you got any stains then you can check our article on how to wash purple mattress covers.
Top Layer:
A top 2-inch comfort layer of the purple mattress is a hyper-elastic polymer some people also call this layer by purple mattress topper.
This layer provides extremely great comfort as well as extraordinary pressure relief and support.
Middle Layer:
This transition layer is 3.25 inches thick and contains polyurethane foam which neutralizes the feel of dense neutral foam at the foundation of the mattress.
Bottom Layer
This is also called the support layer which provides support to the overall mattress.
This layer is 4 inches thick and made from firm, supportive foam that provides structure and support to the mattress.
Height
The original Purple mattress is 9.5 inches tall.
Purple Mattress Size Options, & Price
Purple Original Mattress
| | | |
| --- | --- | --- |
| Size | Dimensions | Price |
| Twin | 38″ x 75″ | $799.00 |
| Twin XL | 38″ x 80″ | $999.00 |
| Full | 54" x 75" | $1199.00 |
| Queen | 60″ x 80″ | $1399.00 |
| King | 76″ x 80″ | $1799.00 |
| California King | 72″ x 84″ | $1799.00 |
| Split King | 76″ 80″ | $1998.00 |
Purple Hybrid Mattress
| | | |
| --- | --- | --- |
| Size | Dimensions | Price |
| Twin XL | 38″ x 80″ | $1,699 |
| Full | 54" x 75" | $1,949 |
| Queen | 60″ x 80″ | $2,199 |
| King | 76″ x 80″ | $2,699 |
| California King | 72″ x 84″ | $2,699 |
| Split King | 76″ 80″ | $3,598 |
Purple Hybrid Premier
| | | |
| --- | --- | --- |
| Size | Dimensions | Price |
| Twin XL | 38″ x 80″ | $2,199 |
| Full | 54" x 75" | $2,399 |
| Queen | 60″ x 80″ | $2,699 |
| King | 76″ x 80″ | $3,299 |
| California King | 72″ x 84″ | $3,299 |
| Split King | 76″ 80″ | $4,698 |
Purple Mattress Performance
After tons of testing we finally found how purple mattress works and its performance during our various tests.
And some of the main and best features of the mattress are motion isolation, cooling effect, edge support, and also more so let's discuss them one by one.
Cooling Effect & Temperature Control
One of the best characteristics of the purple mattresses is they have awesome temperature control so if you sleep hot then you would love it.
And its grid design allows great airflow through its little air pocket.
So it has more breathability and has great airflow better than any memory foam or latex mattress.
Motion Transfer & Noise
Purple mattress has great motion isolation so you can't feel your partner move in your bed.
Lots of people have problems that their partners moving a lot in their beds so they get disturbed but now with purple's motion transfer feature, you can't feel any noise or movement.
Because the purple mattress has hyper-elastic polymer which is really bouncy but also it's also great at absorbing motions.
Pressure Relief
As you lay down on a purple mattress you would feel the polymer squares folding, shifting, and conforming to your body shape.
I know lots of people feel weird for a few nights but believe me, after that will never leave your bed because it's very comforting and has award-winning pressure relief.
Edge Support
Recently purple improved their edge support but before 1.5 years they receives lots of complaints about their edge support.
But now they have improved their edge support to the next level.
After tons of tests on this new purple original mattress, we have found the mattress has great and awesome edge support.
Durability
Other memory foam mattresses are not as durable as purple mattresses. But the purple mattress is more long-lasting and durable than other types of a foam mattresses.
And the main secret sauce behind its durability is its hyper-elastic polymer and it can stretch up to 10 times its size.
This bed is a long-term investment.
Off Gassing
Purple mattress does not have any off-gassing smell like any other mattresses on the market.
Because purple is the bed-in-box mattress that comes directly to your doorstep in a box.
So purple does not smell like other mattresses so don't worry.
Sex
Most people who looking for a mattress for sex then they are just looking for a bed that is easy to move around.
And purple mattress is also a great fit for the best mattress for sex.
Becuase purple mattress is bouncy, firm, and responsive so you can easily move around in purple mattress
Purple Mattress Policies
Like other mattresses, purple offers customer-friendly policies in terms of their warranty, trial period, and shipping policies.
You will also get 100 nights sleep trial.
Warranty
Purple mattress offers you 10 years warranty so if you have any problem with a purple mattress in the next 10 years then you can easily return the mattress and claim a full refund or exchange.
Availability
Purple mattresses are available in both online and offline stores.
But most of the customers buy online becuase of free gifts and discounts.
The purple mattress is also available on amazon but purple has low availability on amazon.
Shipping
Purple mattresses can ship all over 48 states in the USA including the united states and Canada. But international shipping outside Canada isn't available.
For more information on the purple mattress shipping policy and how much time it takes for purple mattress to ship their mattress. Check this article.
Return Policy
Most of the people who purchase purple mattress have difficulties in initial days because purple mattress takes time to adjust with your body.
But if you have slept on your purple mattress for more than 21 days but still having problems or just want to return the mattress?
Then you can easily apply for a return because you have 100 days of sleep night trials left.
If the purple mattress is clean and undamaged then you can get a 100% full refund.
Complaints & Lawsuits
Lots of people find online that purple mattress has lawsuit but it's not what you think because the purple mattress does not have any type of toxic material it is 100% safe for more.
Read this: Purple Mattress Lawsuit (Real Mastermind Exposed)
Lots of people are still have confusion that purple mattress has fiberglass on their mattress but it's not true.
For more read this: does purple mattress have fiberglass?
And for people who are having back pain with purple mattresses in the initial days then you have to wait for the purple mattress to adjust with your body.
Summary
Frequently Asked Questions
1. Does Purple Mattress have a trial period?
Yes, purple offer 100 Nights Free Trial so you can easily return the mattress and get a full refund if you don't like it in 100 days.
2. What is the Purple mattress made of?
Purple mattress has multiple layers but the main unique feature of purple mattress is their hyper-elastic gel polymer which is in its comfort layer. And this gives the purple mattress more comfort, breathability, and support.
3. How long do Purple mattresses last?
Purple Mattress is very durable and can last up to 7 to 10 years because purple mattress uses a gel grid to make their mattress more long-lasting.
4. Are Purple mattresses worth the money?
The purple mattress is one of the highly rated and popular mattresses on the market and it's definitely worth your investment because the purple mattress gives you support, comfort, pain relief, and also other things. Purple mattress has some unique features which you can't get in other types of mattresses/