If you are planning to buy a lucid mattress or just wanted to know does lucid mattress have fiberglass?
Then sorry to say you but lucid mattress also contains fiberglass, what does that mean?
This means 80% of mattresses in the market do have fiberglass.
Lucid's 10-inch memory foam mattress is the most popular mattress in the USA and lakhs of people sleep on them.
You may think? What is fiberglass? Why do mattress brands use them in lucid and many other mattresses?
Fiberglass is used to build thermal barriers by insulating the temperature & for this big mattress brands use fiberglass to make mattresses more comfortable.
In this article, we will cover what you need to know about the lucid mattress and is it right for you or not? If not then what are the best alternatives to lucid mattresses that do not contain fiberglass?
Here are some alternatives to Lucid Mattresses.
1. TUFT & NEEDLE– Adaptive Foam Mattress
2. Sweetnight Queen Mattress
Read More: 9 Best memory foam mattress without fiberglass
What are lucid mattresses made of?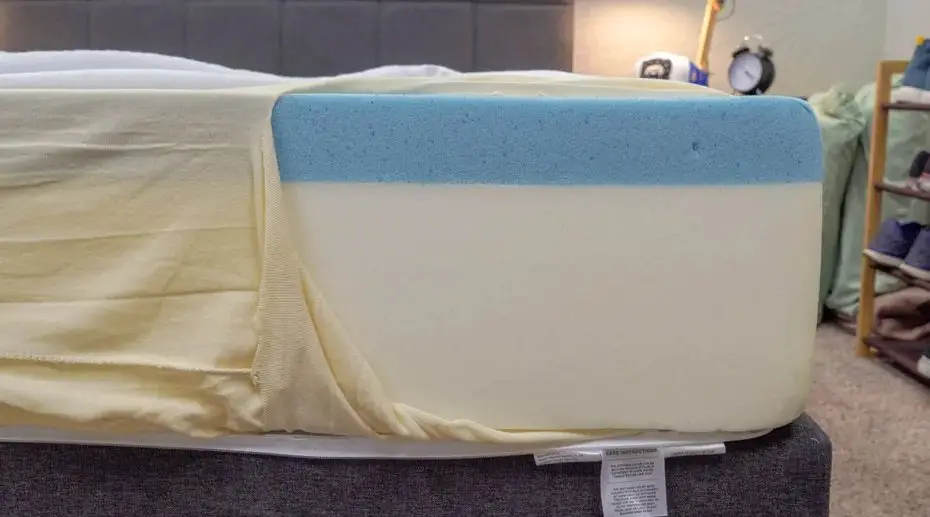 the Lucid 12-Inch Gel Memory Foam Mattress is made from 3 layers which contain a comfort system and support core.
The first layer contains a comfort system that is made of 2 inches of gel-infused memory foam sandwiched between two 1-inch layers of polyfoam.
And the last layer contains 8 inches of charcoal-infused polyfoam. And this is the high-density polyfoam that provides support while the charcoal infusion is intended to ward off odors and allergens.
The lucid mattress offers varieties of firmness options, thickness, and materials so we need to figure out which model is going to be best for you.
And lucid 12-inch memory foam mattress is composed of four layers, including three layers of polyfoam and one memory foam.
does lucid mattress have fiberglass?
Yes, I said before, some lucid mattresses do contain fiberglass but don't forget that 80% of mattresses in the market have fiberglass.
But in which material of the mattress has fiberglass?
80% of the mattresses in the market do contain fiberglass in the layer between the fabric which is mostly combined with modacrylic.
Is Fiberglass safe?
Fiberglass is safe as long as you don't open the zip or cover of the mattress.
And if fiberglass escape from the cover then it becomes extremely harmful especially if its released into the air of your bedroom.
Fiberglass On The Surface (Causes Skin Itches & Irritation)
If you using fiberglass for a long time then you might feel that your skin itches regularly.
This happens when you open the cover of the mattress or fiberglass escapes from the mattress and comes to the surface.
Fiberglass on the Air (Causes Throat Irritation & Breathing Problems)
If your mattress contains fiberglass then every time you clean your mattress then your mattress might release some fiberglass particles into the air.
If you enter a room that has fiberglass in the air then you can suffer from breathing issues and throat irritation.
This can increase the chances of asthma, and other types of allergies.
Read this article for more information about fiberglass.
(https://sleepingvibe.com/how-to-get-rid-of-fiberglass-from-mattress/)
Why does Lucid Mattress have Fiberglass?
Most manufacturers use fiberglass in the mattress becuase it protects the mattress from fire.
Lucid mattress claims that it does not have any harmful materials or fire retardants.
And they often advertise their mattress as they do not contain fiberglass.
But they also state that their mattress does emit 'low' VOCs, which are gases released into the air by materials like fiberglass.
And lots of customers who purchased their lucid mattress talk about they contain fiberglass in their reviews.
And they are very disappointed because the mattress claims they do not contain fiberglass but this is not true(Like Nectar Mattress).
On Quora, amazon, and reddit, lots of people complain about fiberglass in lucid mattresses, you can see the reviews from customers who bought the mattress.
Should You Purchase Lucid Mattress or Not?
Look, fiberglass is very dangerous to our health because it can spread into the air and our overall home.
And lots of people complaining about lucid mattresses containing fiberglass.
Then why choose lucid if there are better alternatives in the market?
If you love memory foam then purchase the memory foam which does not contain fiberglass and there are lots of mattresses better than lucid that comes with the same budget.
Here are some alternatives.
Are All Mattresses Made With Fiberglass?
Most Memory foam, Hybrid, and innerspring mattresses do contain fiberglass in their material but latex mattresses are made with natural latex so they are less likely to have fiberglass.
But there are many memory foam mattress brands in the market that do not contain any fiberglass.
Then the question might arise, then which material do they use instead of fiberglass?
These mattresses typically employ silica, which is occasionally blended with wool to produce a fire barrier.
Lots of people say do not buy memory foam becuase it contains fiberglass but this is not true there are many memory foam mattress that does not contain fiberglass.
So if you love memory foam then you can purchase memory foam mattresses without fiberglass
How Do I Know If My Mattress Is Fiberglass?
Check the mattress label or manufacturer's label and search words like "fiberglass", "Glass wood", "Glass Fibers" and other factors like,
See If it says "do not remove the cover" (or anything similar) because they only say those things becuase they contain fiberglass but want to hide it.
You can find on lots of mattresses that have a zip on their cover but if you read the label then they say something do not remove the cover.
So don't touch it because it contains fiberglass.
And one more thing to find out is if you purchase the mattress for under 500$ for a king or queen size or if it's labeled "made in China" then it definitely contains fiberglass.
FAQs: (Frequently Asked Questions)
1. Does lucid 12-inch hybrid mattress have fiberglass?
Yes, a lucid 12-inch Hybrid Mattress does contain fiberglass to create a fire protection layer, and fiberglass can leak out when you open the cover. So don't buy a lucid 12-inch hybrid mattress.
2. Are Lucid mattresses non toxic?
Yes lucid mattresses are made from nontoxic material and they also claim that they do not use fiberglass, but this is not true lots of people complain about a lucid mattress does have fiberglass and some toxic material.
3. Are Lucid mattresses made in China?
Yes, they are manufactured in china that's why they are very cheap and low cost but all mattresses which are made in china all contain fiberglass.
4. Lucid mattress lawsuit?
Here is the link to the article (https://www.classaction.org/fiberglass-in-mattress-lawsuits) on lucid mattress lawsuits because they contain fiberglass.
Conclusion: does lucid mattress have fiberglass
Lucid mattress claims that their mattresses are fiberglass free but this is not true lots of people who used this mattress complains about containing fiberglass.
So lots of people recommend that you can buy a lucid mattress but if you want to be safe then don't buy it.
Instead of choosing a lucid mattress, choose the top best alternatives of lucid mattress.
80% of the mattress contains fiberglass because it protects the mattress from fire but they are very harmful if they escape from the cover.
And becuase lucid mattress does contain fiberglass you need to choose the best alternatives.