Lightspeed Air Mattress Review: If you are looking for an air mattress that is super lightweight & easy to carry then you are on the right article.
In the past an air mattresses that people used before they are a mess of plastic & fumes, so they are an uncomfortable mess.
But today all things are changed,
Today the air mattress is commonly known as air beds, and this is a good chance.
Because, instead of uncomfortable plastic mess you can manually inflate this bed when you are sleeping, today's air beds are more comfortable, easy to carry, lightweight and so easy to inflate.
Lightspeed Air Mattress Review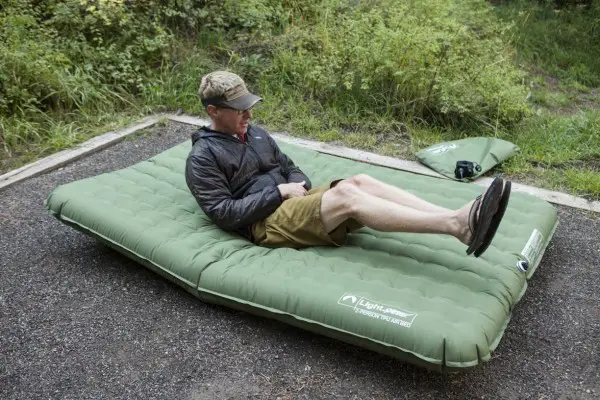 Lightspeed 2 person air bed comes with a convenient battery optimized pump that inflates the mattress effortlessly and quickly.
An air bed has a simple TPU plastic chamber that can be inflated to six inches thick, but waits what is TPU? TPU is thermoplastic polyurethane and this is an environment-friendly type of plastic that effect on health, not risks for humans like any other PVC.
Lots of people have fear to rush to close the valve because air can escape through the valve but in this case, you don't have to rush or worry about escaping the air through the valve because this air bed has a customized valve that doesn't allow it to escape the air.
One best feature of this mattress is you can not slide all over the mattress unlike another mattress they don't stay in one place, but it's Tuft Tech soft sleeper top you can not slide all over the mattress and you sleep comfortably.
The main disadvantage of this mattress is when we sleep on the cold ground or air it does not protect us because this mattress doesn't have insulating properties
Is this Air bed best for you?
But first upon we talk about why we need air bed,
An air bed is easy to carry, lightweight and the air bed can give you more support and comfort than a sleeping bag or mat.
If you are a traveler or camper then nothing is best than air beds because they are easily foldable into the backpack.
But choosing the right air bed for you may be difficult because there are many sizes & shapes available in the market, and if you choose the wrong size then it would be difficult for you.
I think you all experienced one problem with an air mattress that you wake up in the morning with a flat air mattress because of a leak in the mattress, But in this air bed, the chances are low for this to happen.
If you like to sleep on firm then you can refill once slightly during the night.
Why lightspeed 2 person air bed is best?
There are lots of air beds in the market but this lightspeed 2 person air bed is one of the best air beds in the market and this air bed is the top choice of mine according to my research.
Because of its battery-powered pump, you don't have to inflate the mattress manually this electronic pump inflates this air bed easily and quickly.
Why we choose this mattress over most of the mattresses is because others have less comfortability and are significantly cooler and they don't have insulating properties.
The advantage of these air beds is they are very affordable. And two people can also sleep on this mattress in low in size with easy to carry air bed.
Performance Overview –
Comfort –
Don't expect to get that level of comforts that you get in foam-filled mattresses because air beds only have the air they are less comfortable compared to foam-filled mattresses.
But they are very comfortable when you use your favorite cozy sheets, pillow, or blankets, and when you sleep using these things then you sleep comfortably and everything stays in place.
The mattress is meant for two sleepers but when two grown people sleep in this mattress then it's very uncomfortable for two if you move around while you sleep.
We find the mattress gives more comfort when you sleep alone on the mattress.
If you like to sleep firm then you can add some more air in the middle of the night so air leak is not the issue in the mattress.
And the pump works on battery so this can make it easier to inflate the full mattress within just a few minutes.
And it takes 10 minutes to deflate the mattress and become completely flat and it is easy to fold up and pack up in a backpack.
When we set up the mattress a slight odor can occur but the mattress doesn't have the strong odor that other mattresses have, because the mattress has soft fabric enveloping.
warranty
There is one year warranty of "no leak" for more details you can get from manufactures' profiles, and it also depends upon where you would buy the mattress.
If the mattress has some faulty or damaged parts then you can apply for replacement of refund,
Durability
Mattresses look durable looking from their features and quality, some people who used this air mattress say that they had to refill the mattress while night, but that's a very common problem with air beds.
The mattress can be useful for outdoor as well as indoor and also the mattress is very versatile and unless there is a huge effect then it's the best overall air mattress.
Conclusion:
Air beds are a very affordable and useful option for people who travel or camp.
The construction of the mattress is great it doesn't move at all and stays in the same place, there was a minimal off-gassing smell but it's fine not like other mattresses which have a strong odor.
The mattress is easy to carry and comfortable, the pump is great, and inflates quickly.
So this mattress is the best choice air mattress from the reviews of thousands of users.