Everybody wants a great and good sleep at the night, and for a good night's sleep, we all need a mattress that can offer us the best firmness, support, and comfort.
If your mattress is too firm or too soft then that can cause back pain in long-term use of these types of mattresses.
If you sleep hot and wake up at night because you sweat a lot while sleeping then you need that type of material used in a mattress that can give you cool while you sleep like a mattress must have cooling gel.
Plus if don't want to get disturbed in sleep because your partner moves too much while you sleep then you need a motion isolation feature.
And all these firmnesses, motion transfer, comfort, and cooling gel for maintaining the temperature of your body then you can get all in mattresses which are from Vibe.
Vibe gel memory foam mattress is the best choice if you need all these features I mentioned above. The vibe is a mattress line made by classic brands.
The classic brand has experience of over 40+ years in making extraordinary mattresses in this field.
They have been always innovative and come with affordable costs.
The vibe is the best-selling mattress on amazon comes with different types of mattress but they look the same so a person who wants to buy a vibe's mattress get confused.
So let me help you to find which is the best vibe mattress and in this vibe mattress review, I will differentiate all features of vibe mattress.
Vibe Mattress Review (in-depth review of vibe mattress)
The vibe mattress is 12 inches thick with a medium-soft firmness level of 4-5 out of 10,
the comfort system of the vibe mattress has two types of getting infused first one is 2 inches of gel-infused memory foam and 3 inches of gel-infused poly foam which works together for removing heat from your body while you sleep.
These gels can also give more comfort to the pressure points.
The vibe created this mattress for more support and comfort, instead of using springs in the bottom layer vibe use 7 inches of high-density polyfoam that will keep your spine and back in proper position while you sleep.
Good and Bads of vibe mattress
Types of Vibe mattress
There are two types of vibe mattresses first one is vibe gel-infused memory foam and another one is a hybrid vibe mattress.
I will tell you which is best for you and what feature they have, both of them have 12 inches thickness which puts them into premium best thickness type of mattress.
Hybrid mattress:
Gel Memory Foam mattress
The hybrid model has a plush pillow top that makes this mattress more soft, comfortable and supports your body while you sleep.
Besides that, this mattress has a progressive layer of gel-infused foam that allows the mattress to adjust according to your body shape and gel can maintain your body temperature.
A hybrid vibe mattress also consists individually wrapped coil innerspring that will provide support to your back and spine so you can sleep pain-free.
And also have motion transfer for not being disturbed by your partner or if you move while sleep then this feature is best for two of you.
Overall in the summary of hybrid mattress offered by vibe is a highly durable mattress that offers comfort and body support.
Read More: Kingsdown Mattress Review
Read More: Spring Air Mattress Review
2. Vibe Memory Foam
I will give you a full detailed review of the vibe mattress (memory foam) because this is the number 1 best seller mattresses that are offered by vibe and people are crazy about this mattress.
Which vibe mattress is right for you?
If you love to sleep on soft or you like the feeling of softness then both types are great for you,
And this softness of the vibe mattress also supports people who have lightweight(under 130 pounds) they can also feel the softness and for side sleepers who need deeper cushioning for their shoulders.
However each type have there pros and cons,
memory foam Vibe Vs Hybrid Vibe Mattress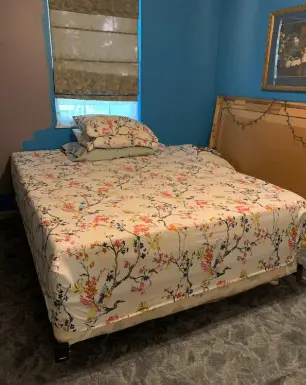 <strong>Buy memory foam </strong>
If you want to buy a popular vibe mattress that has been used by lakhs of people and has the best reviews.
if you want a motion transfer reducer feature, then this is the best foam mattress you can buy.
If you want to buy an all-foam mattress with cooling gel 
<strong>Buy Hybrid</strong>
If you are a hot sleeper and you want a cooling effect while you sleep, its individually wrapped pocket coils can do a better job than memory foam.
If you want good edge support, a hybrid mattress has wrap around coils because that hybrid mattress has strong edges than a foam mattress
If you love the traditional type of mattress but also want to try out a new design then choose a hybrid mattress from the vibe
Performance overview of Vibe mattress:
Features of vibe mattress:
Vibe Mattress performance
Firmness:-
Remember one thing every person has a different shape of the body, and this factor is subjective according to the users.
Suppose for example if you are a lightweight person who can experience mattress normal soft feel but in the same mattress if any person is heavy they can experience a bed softer and comfortable than you do.
weight, shape, and size consider these before selecting the firmness level of the mattress.
The hybrid mattress has a medium firmness scale with a plush pillow on the top for experiencing a medium plush feel.
This means when you lie on the mattress you feel softness also depending upon your weight.
On the other hand, memory foam mattress varies slightly
The vibe says on memory foam mattresses they have a medium plush level of firmness, it has an all-foam design that gives you more sinkage.
But these also most depend upon your body size and weight.
Motion Isolation:(4.5/5)
Along with firmness motion isolation is one of the best features you need in the mattress if you move too much on your bed then it can disturb the sleep of your partner also.
The vibe gel memory foam offers better than average motion isolation,
The memory foam vibe mattress doesn't have any material that can transfer motion, but its high-density polyfoam absorbs any extra moments so you or your partner can't get disturbed
But in a hybrid mattress, you get individually wrapped pocket coils that can absorb all motion, and a hybrid vibe mattress is better than a vibe memory foam mattress in terms of motion isolation.
Pressure Relieve:4/5
Both mattresses have great pressure relievers because both use memory foam that changes accordingly to your body type and absorbs body heat and changes their shape accordingly to your sleeping position.
The pressure relief is best for people who wake up in the morning with an aching body, it also has plush so that it provides more pressure relief for side sleepers and those who weigh 130 lbs.
Temperature control:
Both mattresses have a cooling gel that can maintain your body temperature because they have heat retaining properties. And gives you more comfortable cooling.
But this memory foam mattress may feel warm for people who want to sleep cool at night,
On but the other hand the hybrid mattress from Vibe has individually spring support springs that can give you more airflow and cooling.
And this feature of a hybrid mattress is better than memory foam's high-density foam layer, so if you are a hot sleeper or you want more cooling while you sleep then choose Vibe's Hybrid mattress instead of Vibe's memory foam mattress.
Read More: Lightspeed Air mattress Review
Read More: Hampton And Rhodes Mattress Review
Vibe mattress comfort analysis
I think the hybrid option is best for back sleepers and front sleepers who have to weigh between 110 pounds to 240 pounds.
While the gel-infused memory foam is okay for people who have lightweight for side sleepers, back sleepers, and front sleepers.
And they weigh around 100 pounds to 210 pounds.
Conclusion:
Two of them represent great value for money and have amazing features.
If you are looking for a slightly soft and comfortable mattress with the most amounts of foam included then a vibe mattress is the best option you have in the market.
Vibe mattress is best for people who have a budget under 500$.