Nectar is one of the big brands in the USA for selling mattresses, they have sold around 2 million mattresses across the country.
The company claims they only offer premium quality mattresses to make their customers sleep better and more relaxed.
But what if you have questions like does nectar mattress have fiberglass?
And if it contains fiberglass then which are the best mattresses without fiberglass?
I know it's really sad, 
But nectar mattress contains fiberglass in their covers. Lots of manufacturers including nectar uses fiberglass to make their mattress fire-resistant.
Fiberglass is a cheap material that can be found in 90% of mattresses in the market because other materials like wool, rayon, or latex are more expensive than fiberglass.
you can read more about this on SleepingTalks.
But what if you have already purchased a nectar mattress? You can return that mattress if possible or you can check this article on how to get rid of fiberglass from the mattress.
And if you haven't purchased then you need to know more about these fiberglass types of mattress and alternative options.
Does Nectar Mattress Have Fiberglass (Reasons)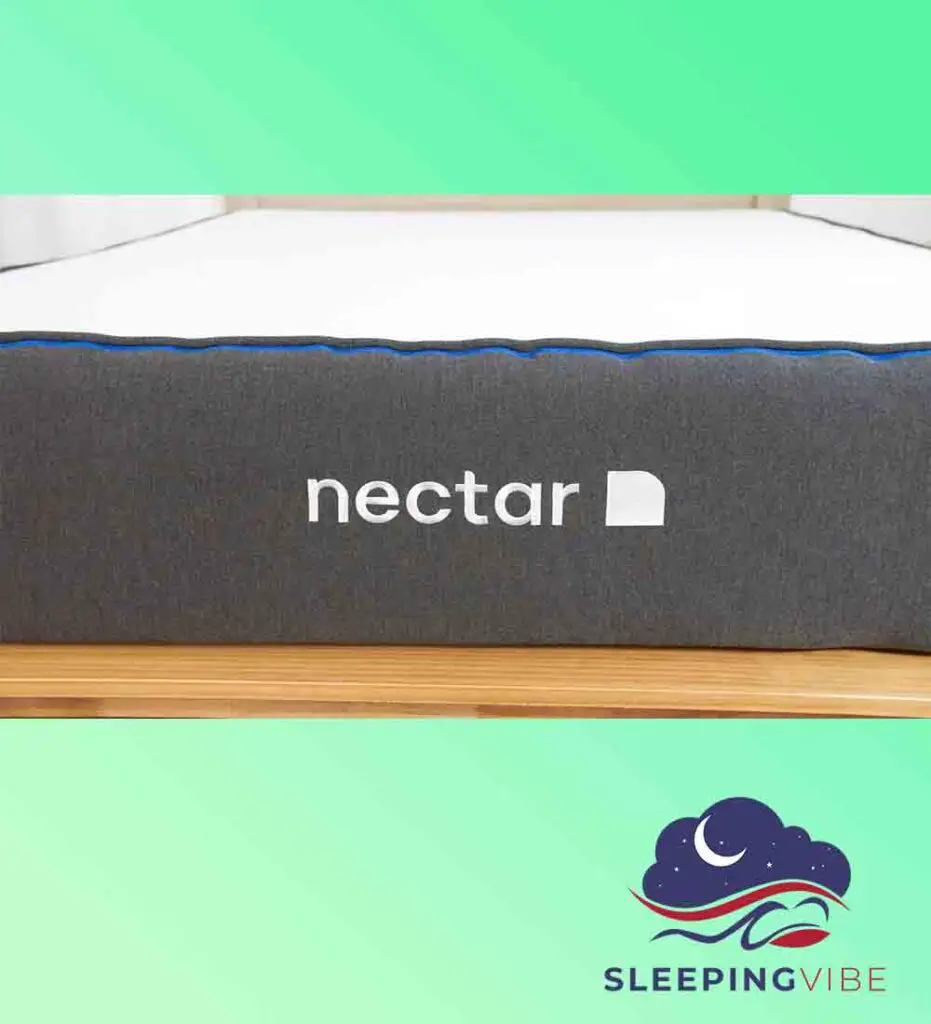 As I said before more than 90% of mattresses use fiberglass in their mattress to make their mattress fire resistant.
Fiberglass is a cheap but harmful ingredient that can cause lots of problems.
But why do mattress including nectar uses fiberglass?
Actually, in 2007, the united states consumer product safety commission issued a regulation that required all mattresses need to be fire resistant.
Because if the mattress gets in contact with fire then it can immediately cause a reaction with fire and make things worse.
And nectar and its other competitor's brands all use fiberglass in their mattresses because they want to make the affordable mattress.
But they don't think about their customer's health.
If any accidental hole develops in the nectar mattress cover or if you removed its cover then fiberglass can spread all over your room and body.
And it can cause itchiness, throat pain, and any other types of dangerous symptoms and if the fiberglass contaminants can spread all over your room then it can make it impossible to remove.
Is Nectar Mattress is Safe?
Again the nectar mattress is safe as long as you don't open its cover. Becuase the nectar puts fiberglass inside of the mattress cover.
And also you need to be very careful with the nectar mattress becuase any hole in the mattress or its cover can leak fiberglass into your house.
So don't put any sharp object or anything which can lead to a hole in your mattress.
And for a bonus tip, you can use a removable waterproof mattress cover on your nectar mattress for extra safety.
A nectar mattress is safe as long as the fiberglass contaminants come out from its mattress cover.
Why does Nectar Mattress hide the presence of fiberglass
Not only nectar, all 90% of mattresses on the market hides this material becuase they know very well if people find out how dangerous the material is then no one will buy their mattresses.
And big brands like nectar, lucid, Vibe, and others hide their fiberglass ingredients so people won't find out.
But now slowly people are becoming aware of fiberglass in mattresses.
All You Need to Know about Fiberglass.
What is fiberglass?
Fiberglass looks like the fibers of glasses in its initial state and looks like hairs.
As I said before fiberglass is a fire-resistant material that helps the mattress to make them fireproof.
It's a good insulator and also creates a barrier between heat and flames.
How Dangerous Fiberglass can be?
They are good insulators and make mattresses fire resistant. But what about our health?
Fiberglass can be cheap, fire-resistant material but they are very harmful when they come into contact with our skin.
If the fiberglass leaks from the mattress and comes in contact with our skin then it can cause skin infections, itchiness, allergic reaction, asthma, eye injuries, breathing problem, and the list goes on.
So fiberglass is a very dangerous material and if the fiberglass comes to contact with air then it can spread all over your house and be impossible to remove.
Should I Buy Nectar Mattress?
I know their prices are affordable when compared to other premium mattress brands but before buying a nectar mattress think of the consequences that can occur of its fiberglass.
Now you know they contain fiberglass then you have two remaining options.
The first option is to buy a nectar mattress and use a removable waterproof mattress cover with that and wait until your cover gets wear or tear and causes health problems.
The second option is to buy the other best memory foam mattress which is fiberglass free plus they are affordable.
Here check this article out.
Best memory foam mattress without fiberglass 2022.
What to Do If You Already Have Nectar Mattress?
As I said before nectar mattress is completely safe as long as you don't open its cover.
But what to do if you already have a nectar mattress? How you can minimize the risk of fiberglass?
First, look if your mattress or mattress cover has any holes or any type of wear or tear because from that point fiberglass can come out of the mattress.
If you found fiberglass contaminants in your mattress then here is how you can remove them.
How to get fiberglass from mattress.
The next thing you need to do is you have removed fiberglass from the mattress to get a mattress protector which can protect you from future accidents.
But if you don't want to do it all then I can understand because it's time taking and a headache.
Just get rid of the mattress or dispose of your mattress and buy a new one.
How do I know if there is fiberglass in my mattress?
If you want to identify the fiberglass in your mattress then its process is very easy.
If you want to know whether your mattress contains fiberglass or not then you can read its label because most of the big mattress brands like nectar list their ingredients list on their mattress label.
And lots of brands don't mention fiberglass as the ingredient so they can fool their customers by replacing fiberglass names like glass, glass wool, or sometimes fiberglass.
The label can also include the amount of fiberglass they have put in their mattress.
And most of the brands don't even mention anything about their ingredients but when you see phrases like do not remove cover then definitely they all contain fiberglass.
Best Memory Foam Mattress without Fiberglass: Non-Fiberglass Options
1. Purple Mattress – #1 Mattress in 2022
2. Best Budget: TUFT & NEEDLE – Adaptive Foam Mattress
3. Olee Sleep 9 Inch I-Gel Multi Layered Memory Foam Mattress
Conclusion 
I know nectar is one of the popular and most rated mattresses in the industry but sorry if this article hurts you.
But the reality is they contain fiberglass.
Although they have budget mattresses and have the best performance and support but their only drawback is they contain fiberglass.
A good night's rest is very important for all but don't just see the price of the mattress because a cheap mattress can costs you health problems in long term.
Nectar mattresses are also good if you don't open their cover but if you want to take the risk of buying a nectar mattress then it's your responsibility to be careful when using that mattress.
Frequently Asked Questions (FAQ)
1. How toxic is the Nectar mattress?
Nectar mattress doesn't contain any toxic material excluding fiberglass only. There are absolutely fine to use as long as you don't open their cover. Because nectar mattress does contain a harmful fiberglass ingredient in their cover.
2. What are Nectar mattresses made of?
Nectar mattress consists of multiple layers which include a comfort layer, support layer, polyfoam transitional, and the cover which is made up of polyester or nylon.
3. Can I sue for fiberglass in mattress?
Nectar mattress already has a lawsuit against them and if your family or you has any health problems becuase of their mattress then you can file a report against them and possibly sue them. And you can also get your money back.
4. Does nectar mattress have lawsuit?
Yes, Nectar mattress has lawsuits against them if you want to know more about nectar mattress lawsuits then you can also check our article on nectar mattress lawsuit.