If you bought a new mattress or you just want to transport your expensive mattress, but you don't want to call transporting experts.
Because the hiring price for these types of companies is usually high, so you don't have to pay them if you have a car and know how to tie a mattress to a car roof rack.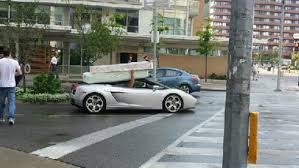 Even If you don't have a car then you have friends, family members, or colleagues that can help you with the car.
Tying a mattress to a car roof rack is a very simple and safe procedure, you don't have to be an expert in transporting the mattress.
You can master how to tie a mattress to a car roof rack in just simple & easy few steps.
But it's not simple to move your mattress for the first time if you haven't done it before, small mistakes can be very dangerous for you.
You need to consider many factors for transporting your mattresses such as car size, mattress size, weight allowed on the roof of the car, and many more things that we are going to discuss in this article.
Pros And Cons Of How To Tie A Mattress To A Car Roof Rack
Pros
Cheap cost
Easy to move mattress to your location
Easy to Handle
Own Vehicle
your own creative idea
DIY Love this
Cons
Fear of accident (But if you do it properly then don't worry)
Fear of damage
If the Mattress is to heavy then you might need help
How To Tie A Mattress To A Car Roof Rack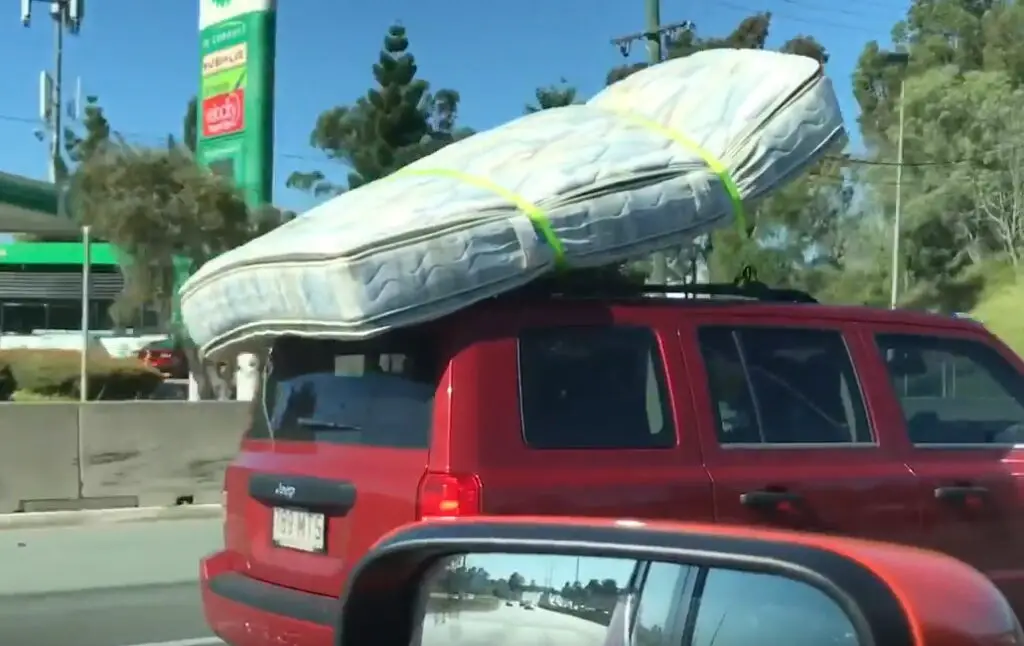 Our first priority for moving a mattress with the car should be Safety, lots of people are afraid to transport the mattress with their car because they think the bed may fall off.
But you don't have to be afraid, it's possible for you can move your mattress with your car as long as you know how to tie a mattress to a car roof rack properly.
lots of people on the internet will tell you it's very risky don't transport your mattress with your car but it's wrong.
If you know how to tie your mattress properly then you can move your mattress with your car safely.
Your primary focus while moving your mattress should be to tie the mattress properly by following these steps.
Before anything else you want  to make sure if you have all tools before tying the mattress over your car, lots of people recommend you rope or tape for tying the mattress, 
But Ratchet Straps are a much safer option than any rope or tape.
Also, you need a mattress bag, gloves, scissors, and some people who will help you in this process.
Step 2: Buy Ratchet Straps
You can find ratchet straps in nearly your outdoor shops, to save a few hundred dollars don't damage your car parts which are worth thousands of dollars.
Using a poly rope is not a problem for tying your mattress to your car roof, but most likely you can damage the windows or rack of your car while tying the rope.
Regardless ratchet straps can do your job, you can find many good ratchet straps in the market but you need to look at ratchet straps that will be long enough to cover all the way around the mattress.
16-foot-long ratchet straps should be enough for holding one or two beds on your car's rack.
But not just length you need to also focus on the strength of the ratchet straps it should at least have 400 to 500 pounds of break strength.
Step 3: Protect your mattress in a Plastic bag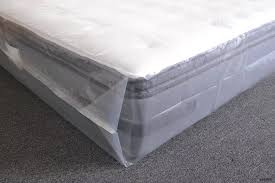 You don't want to move the damaged mattress, do you? 
After buying ratchet straps you need to protect your mattress with a plastic bag, you can wrap it with plastic sheets but it's a very lengthy process.
So, you need to cover your mattress with your mattress vacuum bag that will prevent the mattress from dirt or tearing and reduce sliding while we are moving the mattress.
And you need to make sure there is no air left inside or it will cause a problem while you drive the car on the road.
You can suck all the air out by vacuum cleaner or just setting up a suction pipe on the cover before zipping it and turning it on.
Or really simple if you have duct tape you can use to cover the plastic bag, once you wrapped the whole mattress tightly then we can move to the next step.
Step 4: Load the mattress on the Car Rack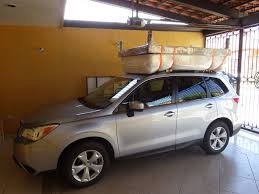 Before loading the mattress on the car rack you need to remove the antenna from your car if you have it, most of the cars have an antenna so remove the antenna by turning it anticlockwise. 
Now you need to load the mattress on the car rack but before that, you need to consider how much weight your car roof or rack can carry, not all roofs have the same capacity.
Also, consider the size of the mattress and the car because if your mattress size is bigger than your car's roof clearly you are violating the traffic rule.
Now you are aware of the weight and capacity now its to load the mattress on your car's roof, it would be best if you take someone's help for loading the mattress on your car's rack.
It is not a lightweight product and it is not easy for you alone to load the mattress on your car's rack.
Place the mattress in the center considering the left and right sides and it is important to remember that you don't cover your windshield.
You need to push the mattress towards the backside so that's okay if you can not cover the windshield.
Step 5: It's Time to Secure your Mattress with Ratchet Straps.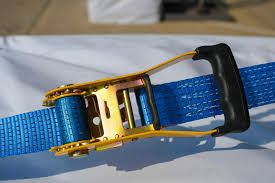 This is one of the most important steps in this process, you need to secure your mattress so your mattress doesn't fall on the road.
Many people tell you to use the thickest rope you can get to tie your mattress and you'll be fine.
But that's wrong and silly advice because the regular rope you can find in a hardware store it is very slippery and very thin that can't hold your mattress.
The rack of your mattress is not very wide enough to hold your mattress easily with straps wrapping it, so you need to use your car window for making sure the mattress is not going anywhere.
Hold the ratchet end in your hand and throw the other end of your mattress with the help of anyone.
If you have another person in your car then make sure you are not blocking the doors from opening in case of emergency.
If you don't know how to use ratchet straps then you can take help by clicking here.
And if you really don't understand this step then I highly recommend watching this video on how to use ratchet straps like a pro.
Now you are ready to ready to transport the mattress safely.
Make sure you need to drive slower than usual and stop the car every 10 minutes to 15 minutes to check everything is okay.
And it would be best if you transport your mattress with another person, she/he will tell you whether the mattress is lifting away from the car or not.
Once you reached your destination then you need to unstrap and remove the mattress and it is just like a piece of cake.
You can also check out this video for tying the mattress to your car's rack.
How to tie a mattress to a car roof rack and transport on any suv
What to do if you don't have Car Roof Rack?
I am not going to recommend a new car roof rack but to fastening the straps with a roof rack, you can use car windows.
Once you place mattress on your car, throw the straps from one side to another, but you never throw the hooks because it can damage your car.
you can use rear windows for more support and stability but you can not use the front windows because you can not be able to open the doors if you use front windows.
In this case you can do is open the front doors then throw the straps and secure your bed.
Things you need to remember while driving
If you are moving your mattress through your car then there are some important things you need to remember.
Drive Slowly so that mattress doesn't move. (specially if you take turn because accidents can happens)
most of the straps lose their strength at some point so make sure you take stops between some points and check everything is in position.
Always Focus on mattress
Mind your speed and avoid busy street
Why You Should Tie Your Mattress To Your Car Roof
In United states, you can tie mattress to your car and can transport your mattress to anywhere this is all legal.
If you do this properly then no one can harass you in your way.
and there are some reasons and ways to tie your mattress perfectly to your car's roof.
1. Mattress can block your way
that's why you need to align your mattress properly on your car's roof rack and if you do not tie the mattress correctly then it can cost you.
also mattress can also hang over your car's front while driving and you can stop your car forcefully and its so dangerous if you want to prevent it then just tie the mattress tight and perfectly with straps.
2. It might cause accident
when you are tying your mattress to car's roof then you are combating with the wind, if the wind succeed then your mattress can fall off from the roof.
when this happen you can't even see it from happening it and you may continue your journey but the driver behind you may not be lucky.
Is it safe to tie a mattress to the roof of a car?
Yes, its safe to tie a mattress to the roof of a car if you do correctly. If you use High Quality roof rack and ratchet straps to secure the mattress, however if the mattress is too large for your car or you just don't know how to tie then you can rent pickup or hire moving company.
But I would suggest you should learn How to Tie A Mattress To A Car Roof Rack then you can easily able to tie your mattress to your car and move your mattress to your desired location.
But if your mattress is too large for your car then I highly suggest you should hire any transport company which will move your mattress to your desired location.
How to tie a mattress to a car roof rack with rope?
Don't dare to use rope to tie your mattress to your car roof, instead of rope you can use quality straps to tie your mattress to car roof rack or if you use rope then accidents can happen.
there are variety of straps which you can use to tie your mattress to your car's roof but remember the lower the quality of material the cheaper the strap cost.
CONCLUSION
Tying your mattress to your car roof isn't that difficult if you know How to Tie A Mattress To A Car Roof Rack properly.
But you need to be very careful when doing this and read all the instructions and steps before you start moving your mattress or accidents can happens.
and never use rope to tie the mattress to your car roof, instead use some high quality ratchet straps.
FAQ (Frequently Asked Questions)
1. Is it legal to tie something to the roof of the car?
Yes, it is legal to tie your mattress to the roof of your car until it will create a problem for other drivers on the road and endanger other people's lives.
Never go too fast and don't forget to follow traffic rules otherwise you may pay a fine if you are caught and most important if you have a sedan or hatchback then don't use a highway, it is very dangerous.
2. Can I fit a single mattress in my car?
most of the car's are not suitable for transforming mattress to one place to another specially if you have big size mattress like king or queen size. But you can still fit a single mattress into car atter is more spacious than the dimensions of the bed. so make sure you check the dimestions of the car and mattress before you do this.