If you have a purple mattress then it's very easy to clean a purple mattress if you do it in the right way so that's why it's really important to know how to clean a purple mattress in the right way.
In this article, we will not only provide you with the right and proven way to clean a purple mattress but we will also tell you how you can prevent some small accidents in the future.
And some tips on how to clean Purple mattress and keep it fresh and clean.
Before we start, let's take some common questions which people ask in my comment section.
Can I wash my Purple mattress?
Yes, like any other mattress purple mattress also needs to clean at least every six months, and cleaning your purple mattress can make your purple mattress last longer and stay fresh and new for years to come.
So unzip the cover of the purple mattress and clean it but don't machine wash it.
Read More: How to Clean purple Mattress Cover.
How often should you flip your Purple mattress?
If you have a purple mattress then the best thing about is that purple mattress can last for years without flipping your purple mattress.
And purple mattresses are one-sided so do not turn over your purple mattress.
But if you want to rotate it then you can rotate them for every 6 months or 1 Year.
You should clean your purple mattress at least every three to six months especially if you have any pet or allergy. And cleaning a purple mattress is very easy.
How To Wash A Purple Mattress? Step By Step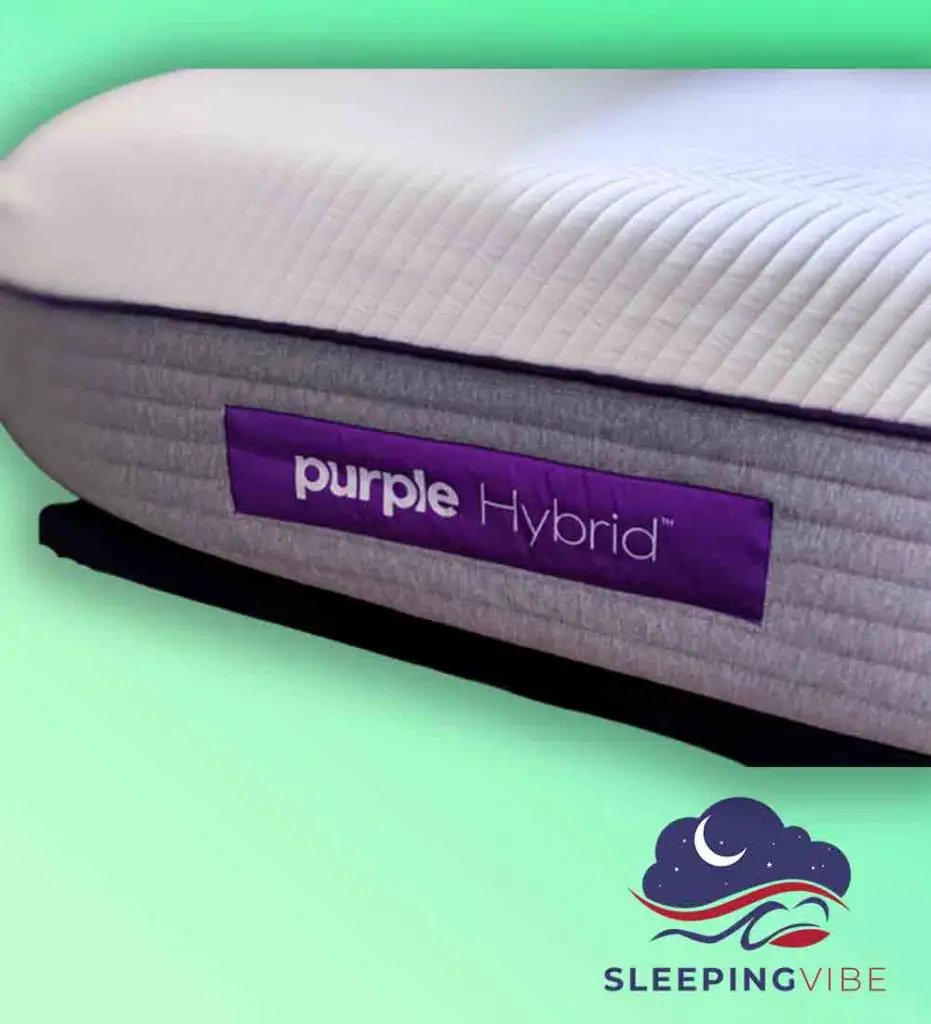 Cleaning a purple mattress is very easy just follow these proven steps so you can make your purple mattress more fresh, new, and smell amazing.
Step 1: Gather Your Tools
To clean a purple mattress you need some supplies, if you know which things you will need to clean the purple mattress then this process of cleaning a purple mattress is piece of cake.
Here are some tools and supplies you need to clean the purple mattress.
Vacuum Cleaner
Baking Soda
Cleaning Cloth
Launder Detergent
Dish soap or Enzyme cleaner.
Step 2: Remove all Bedding
Your next step should be to remove all the bedding from your purple mattress like its sheets. Pillows, blankets, comforters, or any other items on your mattress.
And after removing sheets, covers, and pillowcases throw them onto the washing machine.
If you don't know how to wash purple mattress cover and unzip it, check this article.
Step 3: Vacuum Every Inch of the Mattress
After everything is removed take your vacuum cleaner and go over every inch of your purple mattress to take out all like dirt, dust, and dander that has collected on it
And after vacuuming it properly then now it's time to clean the purple mattress.
Step 4: Choose a Solution for Different Types of Stains
There are different types of stain remover on the market and the type of stain remover you use depends upon the type of stain do you have on your mattress.
If your purple mattress has general stains like dirt and grime then you can use a general stain remover to remove these types of stains.
Just take a clean cloth which is dumped into the water and mild soap. And after that gently rub the cloth over the surface of the purple mattress in a small circular motion.
But for urine, vomit, sweat, or blood stains you can use enzyme cleaner or hydrogen peroxide to get rid of these types of stains.
Here are some enzyme precise or hydrogen peroxide for the best way to clean your mattress.
1. Enzyme cleaner
CERTIFIED GENTLE AND SAFE Chlorine free and color safe. Safe to use around pets and children. No hazardous propellants, no residue left behind. So gentle it's been Certified Safe for all carpets, earning the Seal of Approval by the trusted Carpet and Rug Institute (CRI)
ELIMINATES STAINS, ODORS AND RESIDUE If it's gross, it's gone. Not just the stain, but the stink. From stinky yellow pet urine and feces to vomit and other organic spills, our professional strength formula tackles them all.
EVERY SURFACE, EVERY TIME For use on carpets, floors, furniture, clothing, litter boxes, kennels, carriers, all pet living and sleeping areas—anywhere stains happen.
ENZYME ACTIVATED The key is getting to the problem deep-down. This spray contains natural enzymes that are activated on contact with odors and stains, feeding on ammonia crystals and organic matter until they are completely eliminated.
100% SATISFACTION GUARANTEED An Amazon best seller—for a reason. If your stains and odors aren't gone, neither is your money. We'll refund it in full.
2. Hydrogen peroxide
32-fluid ounce bottle of first aid antiseptic
First aid to help prevent risk of infection from minor cuts, scrapes and burns
Active ingredient: 3% hydrogen peroxide (stabilized)
If you like Swan Hydrogen Peroxide, we invite you to try Solimo 3% Hydrogen Peroxide First Aid Antiseptic
But if you can't be able to get these right now then you can use dish soap.
In the future make sure you have an enzyme cleaner of hydrogen peroxide to effectively clean your mattress.
Step 5: Creating a Solution to spot Clean Purple Mattress
Take one part of hydrogen peroxide or enzyme cleaner to three parts of cold water. And mix them into the spray bottle.
And it's really important to know that you should not use too much cleaning solution to clean stains because too much solution can damage your mattress.
Spray the small amount of solution to the affected areas first and then apply the solution to the rag then gently pat the stain with a rag.
And let the solution sit for a few minutes then gently wipe the area with a clean cloth.
After this again add cold water to another rag then pat the area with a wet rag.
And again repeat this step 5 until all the stains are gone.
Step 6: Sprinkle some baking soda over the mattress and let the mattress dry completely.
After cleaning your purple mattress let dry your mattress for a while then after that sprinkle some baking soda over your mattress and again wait for the purple mattress to dry completely
Baking soda is a natural deodorizer that will help to remove odors of vomit, urine, blood, or any type of bad smell.
You should at least wait to dry the purple mattress for 15 minutes to several hours to make your purple mattress fresh and clean.
Step 7: Vacuum it Again
After waiting for baking soda to sit over the purple mattress now it's time to again vacuum all baking soda on your mattress.
Please pay attention to removing all the baking soda on your mattress properly.
If it takes vacuuming your mattress 3 times to remove all baking soda on the mattress then go for it but remove all particles of baking soda.
After this, you can take your purple mattress to the outside of your house to dry properly.
Step 8: Repeat these Step Every Three Months
The purple mattress needs to be cleaned at least once in three months but if you have time then vacuuming the purple mattress daily can be the best.
Because this will help you to clean all dirt and dust every day.
And if you follow these steps then you can keep your purple mattress fresh, new, and clean for years to come.
How to clean urine from Purple mattress?
Here are some steps to clean urine from a purple mattress.
Notice
if you use enzyme cleaner then results can be more effective.
Step 1: Create a Solution
Mix an equal part of white vinegar or enzyme cleaner to an equal part of water then mix them into the spray bottle.
Step 2: Spray the Solution to Affected Areas
Spray the solution to the urinated areas on a purple mattress but make sure do not over-saturate the area so just spray a small amount of solution Over the area.
Step 3: Spot Clean the affected area
After spraying the solution just take a cleaning cloth and bloat the surface with cold water and just damp the affected area but don't over damp it.
Step 4: Wait for a few minutes and sprinkle baking soda
After spraying and cleaning spotting the solution it's time to wait for the purple mattress to dry then after when the purple mattress is dried sprinkle some baking soda and wait for several hours.
Baking soda can neutralize the smell of urine.
Step 5: Vacuum up
After waiting for several hours just vacuum up all baking soda on the mattress and air out your purple mattress to make it fresh and clean.
How to Clean Vomit from Purple Mattress?
Just like urine stains, vomit stains can be tough to remove from a purple mattress.
Firstly vacuum up your purple mattress then,
Take equal parts of water to the equal part of enzyme cleaner and mix them into the spray bottle and spray into the affected areas of the purple mattress.
After that let it dry and sprinkle some baking soda to neutralize the vomit smell from the purple mattress & wait for a few hours and again vacuum it up.
For the best results, you can use some fragrance spray which can be available anywhere in outdoor shops.
Can I steam-clean my purple mattress?
Yes, you can steam clean your purple mattress because purple mattresses are durable and comfortable but however after some time purple can become stained or dirtied.
So steam cleaning purple mattresses for sweat, dirt, dust or any type of stains can be the best way to clean purple mattresses.
Firstly vacuum up the purple mattress then run a steam cleaner across the whole surface and then allow it to dry properly.
Related Posts: