A futon is a sofa or couch that can be folded into a bed, you can use and set it up in your living room when you have unexpected visitors.
And futons are great alternatives to traditional mattresses if your bedroom is small or you don't have a bedroom at all.
Plus they are perfect for guests and living rooms but the main problem you will face is choosing the right size for a futon mattress, so what size is a futon mattress is Great?
How much size you will need for a futon in your living room? Or if they use the standard mattress sizes you will find in regular beds?
Are they equal in size to regular beds or not?
Don't panic we will answer all of your questions, in this post we will cover different standard mattress sizes and the benefits of futon mattresses.
Then we will look over the different types of futons layouts and frames. So let's find out.
Futon Mattress Dimensions
| | | |
| --- | --- | --- |
| MATTRESS SIZE | DIMENSIONS (IN) | DIMENSIONS (CM) |
| Twin | 38 inches by 75 inches | 96.5 cm by 190.5 cm |
| Twin XL | 38 inches by 80 inches | 96.5 cm by 203.2 cm |
| Full | 54 inches by 75 inches | 137.2 cm by 190.5 cm |
| Queen | 60 inches by 80 inches | 152.4 cm by 203.2 cm |
| King | 76 inches by 80 inches | 193 cm by 203.2 cm |
| California King | 72 inches by 84 inches | 182.8 cm by 213.4 cm |
What Size is a Futon Mattress? (Sizes of Futon Mattress)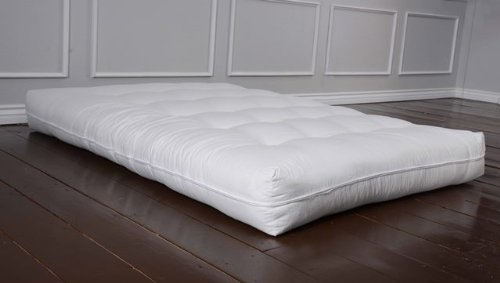 The good thing about futon mattresses is they come in regular size US mattress sizes, which means futon mattress is available following common sizes.
Twin Size Futon (38″ x 75″)
At 38 inches by 75 inches, twin bed sizes are the most compact of all adult bed sizes.
Twin size futon mattresses are the smallest and least expensive mattresses in all its standard sizes, these are great for the average height of adults who live in small apartments.
You can use twin-size futon mattresses to sleep shorter or younger individuals.
Twin XL Size Futon (38″ x 80″)
Like the twin size mattress, the twin XL size futon mattress is also 38 inches wide but it adds 5 inches in length and makes the Twin XL Futon mattress size 38 inches by 80 inches.
For taller sleepers, its the best to get a twin XL size futon mattress.
Because this size offers extra legroom which will need to get a comfortable sleep at night.
And this size is designed for single sleepers and this size is also so affordable.
Full Size Futon (54″ x 75″)
The full or double size futon mattresses are the most common futon mattress sizes which people buy most, At 54 inches wide by 75 inches in height.
The dimensional of a full-size futon mattress is the best for a single sleeper who likes to roll around or spread out.
This size is also called double size futon mattress because it technically accommodates two people, 
But a full-size futon mattress is generally too narrow and not comfortable for two people in long term.
And you can place this size futon in a room that measures at least 10 by 12 feet.
If you are a couple then we recommend you to choose queen or king size.
Queen Size Futon (60″ x 80″)
If you have a large space or room which is available for a futon mattresses then consider queen size futon mattress.
Queen size mattresses are the most popular and gold standard in the industry today.
At 60 inches by 80 inches, the dimension of the queen-size mattress can comfortably accommodate taller sleepers and the couple.
And you can also fold this futon mattress into an averaged sized sofa for daytime use.
If you are a couple who are looking to buy a futon mattress then you can also buy this size of the futon mattress.
King Size Futon (76″ x 80″)
At 76 inches by 80 inches, a king-size futon mattress is super roomy for couples and also can fit a kid or two if you got a family of guests.
This king-size futon mattress is designed for couples who want spacious luxury.
This size allows plenty of space for one person to move around while not bothering others.
But only go with king size futon mattress if you have the space available around 13 feet by 13 feet.
If you frequently have guests staying over at your home then you can have king size futon mattress and give them a luxurious feel while they sleep.
California King size Futon (72" x 84")
The California king-size futon mattress is 72 inches wide and 84 inches long, the normal eastern measurement of a California king-size mattress is 76 inches by 84 inches.
And these are the standard sizes of futon mattresses.
Western and eastern sizes do not vary too much and the size is universal.
Read More: how to keep futon mattress from sliding
How Check the Size of your futon?
It is really important for you to know the size of your futon because you can get yourself a perfect well-sized mattress for your futon.
If you know the size of your futon then you can also pick the perfect cover for your futon.
Let's come to the point of how to check size of futon,
The first thing you can do to measure your futon is to use measurement tape and after that measure the length, width, and depth of your futon.
And after measuring the size you can compare the size of your futon with the standard sizes chart.
By following these steps you can easily know your type and the size of your futon mattress.
To measure the size of your futon as soon as you get it.
Types of futon mattress
There are mainly three types of futon frames in the market, and each type of futon functions slightly differently like different ways of converting a futon into a sofa or bed.
1. Bi-Fold Futon Frame
2. Tri-Fold Futon Frame
3. Love seat Frame
These are the basic three types of a futon Frame but each once has its own strength and weakness.
1. Bi-Fold Futon Frame
Bi-fold futon frames are the most common frame type which people use, when you use a bi-fold futon as a sofa, you will be able to site 3-4 people easily.
And bi-fold futon frames can be folded in half lengthwise right down the center to make a standard sofa set.
Bi-Fold Futon Frames are most likely to come in queen and full sizes can also have mattresses as thin or thick as you prefer.
To use it as a bed simply recline it back to a flat position.
2. Tri-Fold Futon Frame
Tri-Fold mattress can fold their mattresses into the third to create a standard sofa or chair with a footrest.
Tri-fold frames are the best for people who enjoy a lounger.
In contrast, a Tri-Fold futon can only seat 2 to 3 people when you use it as a couch and some Tri-Fold Futons Comes in two pieces.
Since the mattress can fold into third with this frame type, so thinner mattresses are usually better in this case.
As are more flexible and materials like memory foam or latex foam.
3. Love Seat Futon Frame
If you have a small space in your house then love seats are the best choice for you because they are designed to fit in smaller spaces.
And they are more likely to Tri-Fold in design because they are much longer than they are wide.
You can use a love seat frame for watching tv, lounging, and sleeping.
This style futon can seat 3 people easily without an issue, Twin and Twin XL mattresses convert into loveseats when you fold them, so futons of this size will only sleep one person.
When you are ready for the bed unfold your loveseat and recline the top.
Frequently Asked Questions
Are futon and bed sizes the same?
Generally, the answer is Yes, a queen futon mattress is the same dimensions as a queen mattress for a traditional bed frame.
Ao the futon and bed sizes can be the same.
Can anyone sleep on a futon mattress?
No matter what age you are, what body type you have, you can enjoy sleeping on a futon mattress. But mattress quality and size do matter when it comes to your comfort.
For the best results, you can get a higher-quality memory foam mattress paired with a wooden base.
How much weight can a futon bed hold?
The amount of weight a futon can hold depends upon the size of the futon mattress and the type of frame you have.
So you can check the packaging material of the bed and the frame for weight limitation.
A typical futon bed can handle 500 pounds to 650 pounds depending upon its size.
Can two people sleep on a futon?
If your futon bed is wide enough then two people can easily sleep on it without any issue.
Full and queen-size futon mattresses generally hold two people but remember full-size futon mattresses might not be able to sleep comfortably for two people.
So either choose a queen or king-size mattress if you are a couple.
Can I use a futon as my main bed?
Most of the futon mattresses are prior to using with futon frame rather than for comfort and support.
But some premium futon mattresses can be used as daily sleepers but you should be cautious and do some research.
Conclusion
Futon mattresses can be a great addition to your home, especially for those who have smaller space.
You can select any size of your futon mattress by the chart which I gave above so you can perfectly find the right futon mattress for your home.
If you already bought the futon mattress make sure you check the size of the futon mattress.
I hope you liked our article on "what size is a futon mattress" if you have any questions regarding "what size is a futon mattress" you can ask them in the comment section.