We all know air mattresses are the best balance between comfort and convenience, and no portable bed is better than an air bed.
Nowadays, you can literally sleep on air, air mattresses can be used by everyone whether you are going camping, traveling, or having some extra bed for unexpected guests to a sleepover.
Nothing beats an air mattress in terms of portability and speed.
You can fold air mattresses or you can store them for years and they will work absolutely fine for years.
But even the best air mattresses need something to add up because lots of air mattresses have problems with deflating, sliding, or irritating noises.
So we need to make our air mattress more comfortable to sleep on whether by finding a hole in the mattress if you have one or by making your mattress quieter.
Most people complain about their air mattress feeling uncomfortable, feel hard, and also bumpy, and sliding.
And all of these make your sleep worst so let's check out some easy & smart ways to make air mattress more comfortable.
Expert's Advice
Good Quality Mattress Topper can Increase your Air mattress's comfort 10X Times. But Choose According to your bed size.
#1 Best Mattress Topper for Air Mattress (Highest Ratings)
How to Make Air Mattress More Comfortable? (10 ways)
1. Make sure it is Properly Inflated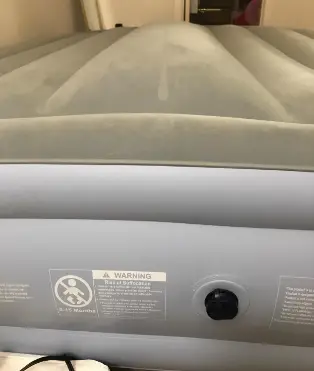 One of the most important factors which are going to impact your sleeping experience is the amount of air your air mattress contains.
Because if you fill too much air in it then it's going to feel hard and firmer even if you don't fill enough air then your air bed is going to sag.
So properly air amount is best for your air mattress to get you a comfortable sleep.
Room temperature also affects your air mattress, your mattress gets softer at warmer room temperature and the same opposite it will get harder and more uncomfortable at cold room temperature.
So fill your air mattress with proper air value and amount.
2. Use a topper on your bed
If your air mattress is too hard, cold, or uncomfortable then adding a mattress topper can make your air mattress more comfortable.
Topper ranges in price and you can find different varieties of great mattress toppers.
If you don't like the feel of the rubbery surface of your air mattress then the mattress topper can add extra cushioning to your air mattress so you feel like sleeping on an actual bed.
And this is a very affordable way to make air mattress more comfortable.
Before buying a mattress topper make sure the topper should be fit properly to your air mattress and it's worth looking at the material from the topper made of.
Memory foam will be an excellent option because these foam toppers are soft but you need to decide how much firmer or softer you should want.
People struggle a lot to buy a proper size mattress topper that will suit their mattress because normal-sized mattress toppers are shorter.
So if you are a DIYer lover then you don't have to spend money to buy a mattress topper let's check this video to create a mattress topper of your own.
If you are not a DIYer, then you should buy a Great Quality foam mattress from amazon or nearly outside stores.
3. Use proper sheets, bed covers and blankets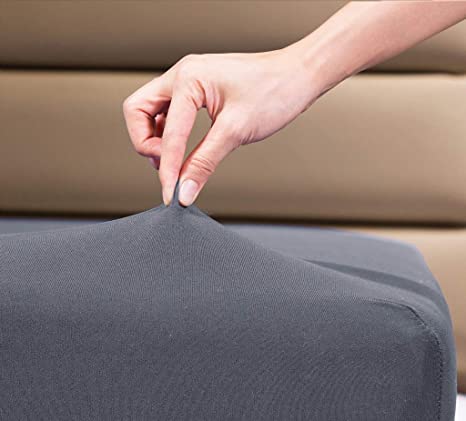 Since air can heat up and cool down so much faster than solid, your air mattress will react to temperature changes so quickly.
An Air mattress is nothing but air enclosed into a plastic rubber-type structure that looks like a bed so if you have cool weather near you then your air mattress is going to become cool.
So if you are in a camp or outside of the camp then the weather can be cold then if you want to prevent your mattress from cooling then you need to warm your air mattress.
Using proper sheets or blankets separates you and your air mattress and keeps you warm and comfortable.
Using bed sheets and covers not only makes you warm but also prevents you from sliding off on your air mattress.
If you don't know how to adjust sheets and cover properly then read this how to keep air mattress from sliding
4. Raise the mattress from the Ground
Lifting your air mattress off is very beneficial, this helps to maintain cooling in summer.
Raising the mattress from the ground not only protects different threads but also stops it from losing its position.
Raising the air mattress increases the comfortability of the air mattress.
Lots of people feel uncomfortable sleeping at a shallow point so raising an air mattress is also the best option for them.
You can raise your air mattress using a bed frame, plywood, or the box spring.
If you wanted to know in detail how to raise an air mattress off the floor then click here.
5. Use Headboard or Wall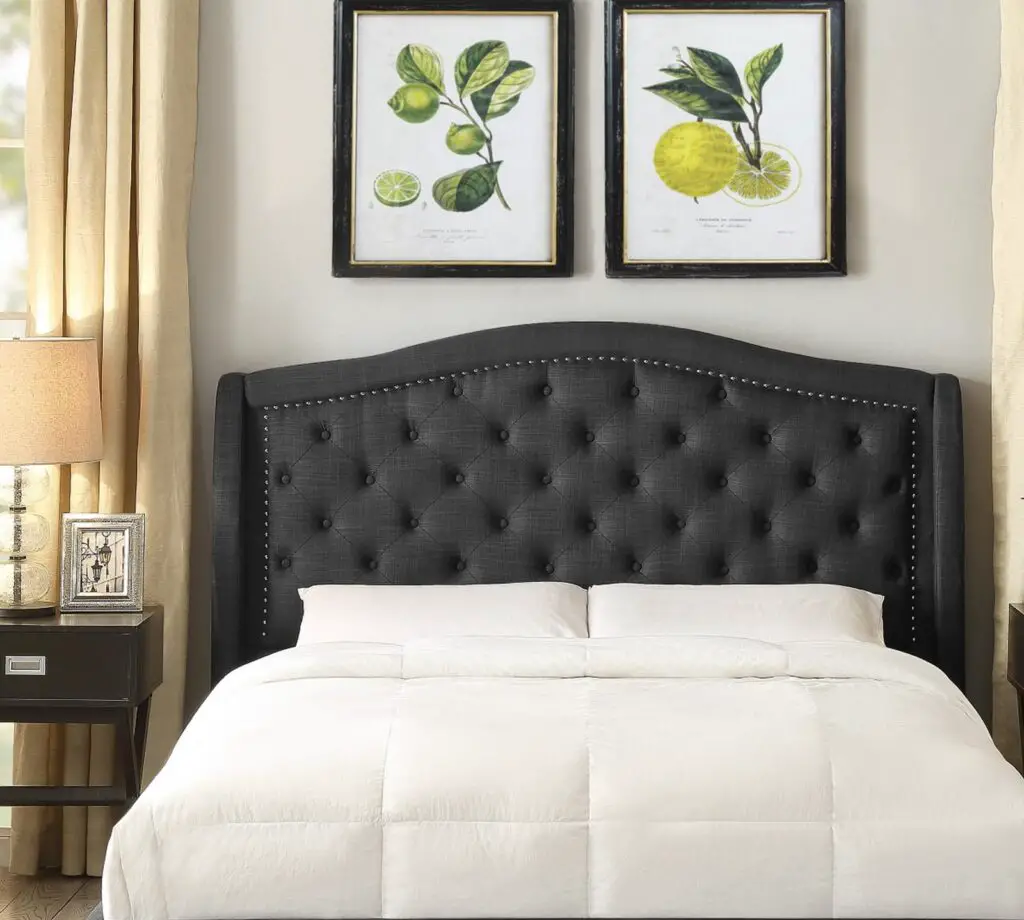 Having a headboard over your head is something you wanna consider because many people find it uncomfortable to sleep without a headboard.
Because with no headboard they feel like some kind of insecurities.
Headboard keeps pillows from sliding off from your bed and hold in one position, and if you lose your pillow in the middle of the night then it can disturb your sleep.
Because of the design of the air mattresses, an air mattress cannot be fitted with a headboard, but if you are a DIYer then you can attach a headboard to the mattress along with the mattress stand.
If you can't fit a headboard then just use the wall.
Simply push your air mattress to a convenient wall so you can use it as a headboard.
Read More: How to Make An Air Mattress Quieter 2022
6. Make Sure your mattress is leaking or Not
If your air mattress is leaking then it's so important to check the hole in the mattress and patch the leak.
And if you have any hole in your air mattress then it's serious problem.
If you are experiencing any air loss while sleeping then you need to find the hole as soon as possible, and finding the hole in the mattress is not an easy task to do.
You don't want to wake up inflating the mattress in the middle of the night, right?
There can be a small or tiny hole in your air mattress so you can't see from your naked eyes and these tiny leaks are difficult to find.
If you have no idea about how to find a leak in your air mattress read this article on how to find a leak in your air mattress.
7. Put your air mattress on softer surface
Unlike the memory foam mattress or not even the best air mattress does not like to be on a hard surface.
And this is another quick way to make your air bed more comfortable than before.
Because air mattress is made from vinyl material the bottom layer of the air mattress not going to augur with that hard surface and make squeaky noise.
You can put a mat or rug between the mattress and the surface of the floor because it helps to maintain temperature from the cool floor.
And this trick can also get rid of squeaky and irritating sounds which are coming from your air mattress.
8. Make you air bed Quieter
Lots of people have this common problem which is their air mattress makes irritating noises while they move.
And it disturbs their sleep, so finding a solution to this problem is so important if you make your air mattress quieter then you are making your air bed more comfortable.
The shortest answer for this problem is you can use the topper already said before a mattress topper can solve your problem easily.
If you are getting a mattress topper then buy a memory foam mattress topper.
And if you have this problem then read this article on how to make air mattresses quieter.
9. Use Proper Pillow
There are lots of benefits to using the right kind of pillow which will suit your air mattress.
Pillow helps to align your spine properly while you sleep and prevents backaches and neck strains.
For this reason, you need to make sure properly you are using the right pillow for your air bed.
It doesn't matter if you are using the most expensive air mattress or any other mattress, if your pillow is inappropriate and uncomfortable then you are going to face lots of health issues.
Get the best pillows as best you can because the quality of the pillow is definitely going to matter when you sleep on them.
Pillows are the best investment you can make for your air bed so invest in the right pillow lots of people say all expensive pillows are the best but this is wrong.
You need to research properly before buying any pillow for your airbed.
A memory foam pillow can be the best pillow you can purchase from the market.
10. Get a New air mattress
If your air mattress is too old then you need to replace your air mattress or you just want to purchase a new air mattress with new features.
You can get an air mattress which comes with a topper and skirt.
These air mattresses do not only look luxurious to the eyes but also eliminate the hassle of adding bedding, sheets, and toppers.
If you don't have time for doing all these tricks then you can just buy a new air mattress that is not only comfortable but also has some advanced technology like sure-grip bottom.
They don't move or slide just you can sleep comfortably on them.
And if you just want to store your mattress and want to fold your air mattress read these articles
Read More: How to fold a Beautyrest air mattress
Read More: How to store a mattress
How to Make Air Mattress More Comfortable?
4 Reasons Why Your Air Mattress Is No Longer Comfortable
There can lot of reasons why your airbed is no longer comfortable now but there are most common reasons why your airbed is not comfortable.
1. Shorter Warranty
If your air mattress has short period of warranty or your air mattress got old then this may be the primary reason why your air mattress is not comfortable now.
All air mattresses have shorter period of warranty as compared to other types of mattresses, so if you want to exceed its warranty then you have to take care of your airbed.
mostly average air mattress have lasts two to eight years depending upon the use & care of the air mattress.
2. Overloading capacity of air mattress
before you buy any air mattress you have to check its capacity and size, and if you already have one then you have to make sure you check its weight capacity before you sleep on it.
A regular Twin Size Air Mattress has around 300 pounds of capacity, and a Full Size Air Mattress can typically hold around 400 pounds to 500 pounds of weight.
And the Queen Size & King Size air mattress can hold around 500 pounds to 700 Pounds of weight.
so, if you are a couple or your weight is heavy then make sure you see capacity of your air mattress.
3. Life Spam Of Air Mattress
If you use your air mattress regularly then you have to take care of your air bed so your air bed can have more lifespam.
an average air mattress has lifespam about 2 to 7 years depending upon the quality of the material used in the air mattress,
if you take care of your air mattress regularly then you can increase the lifespam up to 8 years.
when not in use then you can deflate the mattress and keep in carry bag.
you can also keep your air mattress in cool place to avoid stabbing the air bed also don't over inflate and avoid sitting on the edge egde of the inflated bed.
4. May be there is an hole in your air mattress
This is also be the main reason why your air mattress is not comfortable because there could be hole in your air mattress which directly affect on the comfortness of your airbed.
if you want to find hole in the mattress then you can check this article.
More: How to Find a Leak in An Air Mattress in 3 Steps
Conclusion
Making your air mattress comfortable is also hard work but if you want to sleep comfortably during the night then you must make improvements to your air mattress.
In this article, I discussed the 10 proven ways to make air mattress more comfortable to make your air mattress comfortable today and sleep well.
If you have any questions about any trick then ask them in the comment section I will reply to them in no time.
Frequently Asked Questions
1. Why is my air mattress so uncomfortable?
there could be lots of reasons why your air mattress is uncomfortable but the main reasons are 1.Shorter Warranty of your air mattress 2. Overloading capacity on air mattress 3. your air mattress got old 4. leak in the air mattress. these are the main reasons why your air mattress is so uncomfortable.
2. Can I put a topper on an air mattress?
Adding topper on the air mattress is the best way to make air mattress more comfortable this will helps in keep air mattress warm, softer, cooler and gives extra support and stability to the air mattress.
3. Why does sleeping on an air mattress hurt?
air mattress is not great for body support but they are so affordable and they have great portability, sleeping on directly inflated air mattress regularly can hurt your back, hip or your body so if you want sleep on your airbed then make your air mattress more comfortable and supportable by using mattress topper, sheets and proper pillow.